The New Revolutionary Treatment to Combat Ageing
For those looking for an effective anti-ageing laser treatment that is gentle on skin and completely innovative, Clear + Brilliant may be your solution. A revolutionary step forward in anti-ageing options, this treatment is more effective than chemical skin peels and microdermabrasion, whilst being less invasive than other solutions such as Fraxel, a stronger laser treatment.
Designed for all skin types and suitable for individuals in their twenties and above, Clear + Brilliant is perfect for almost anyone. Results are seen almost instantly and these results will improve even further as more time passes. Great for long lasting results or a refresher before a big event.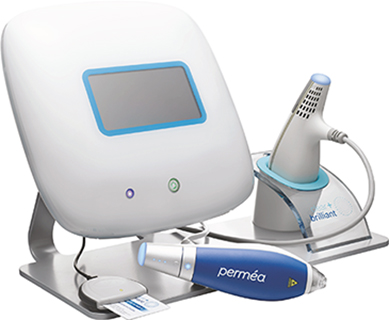 This treatment uses a gentle fractional laser energy to create treatment zones across the area of your body or face. The idea behind the millions of microscopic treatment zones is to stimulate the production of new skin tissue to replace old and damaged skin.
Comfortable and reasonably quick, this is a no fuss solution that take approximately half an hour after the initial consultation is completed. During treatment, you may experience a feeling similar to an elastic band flicking onto your skin. The treated area can be sprayed with water to cool skin.
Your pores will appear smaller
Addresses uneven skin tone
Increased skin elasticity
Reduce dullness and textural imperfections
Book Your Clear + Brilliant Treatment